As we near the Fourth of July, we can't help but be reminded that summer is truly settling in – road trips, outings, and family gatherings is something we all look forward to this year. Why not capture those memories through writing and drawing in your TRAVELER'S notebook? Travel doesn't need to be a long-distance trip outside your country. A small trip within your community is just as significant and worthy of documenting in your TRAVELER'S notebook.
This summer, we embarked on a TRAVEL & SKETCH adventure with TRAVELER'S notebook alongside Art Toolkit and USA Partner Shops. Let's look at how TRAVELER'S notebook users are having fun with their notebooks in their neighborhood during the events in June!
TRAVEL & SKETCH Sketch Crawls and Virtual Trips in July 
Seattle Sketch Crawl with Maria from Art Toolkit at Center for Wooden Boats
At the beginning of June, we introduced the TRAVELER'S COMPANY USA collaboration with Art Toolkit, an art supply company based in Port Townsend, Washington to introduce the special Pocket Palette for sketching on the go. Maria is the founder of Art Toolkit and an expeditionary artist who is working to inspire environmental awareness through art. Inspired by her hometown which is known to be a fisherman's town with wooden boat craft, we gathered in downtown Seattle at Lake Union Park to sketch at the Center for Wooden Boat!
The Center for Wooden Boats is a living museum that preserves and documents the maritime history of the Pacific Northwest area of the United States. A modern establishment houses active restoration and building of wooden boats. In contrast, floating on Lake Union is a walkable floating structure that showcases retro boat houses against the beautiful skyline.
Maria kicks off the sketch crawl with a demo about how to capture scenes in your notebook through quick tips and tricks on thumbnails and values. Participants then separate to find and sketch what draws their interest.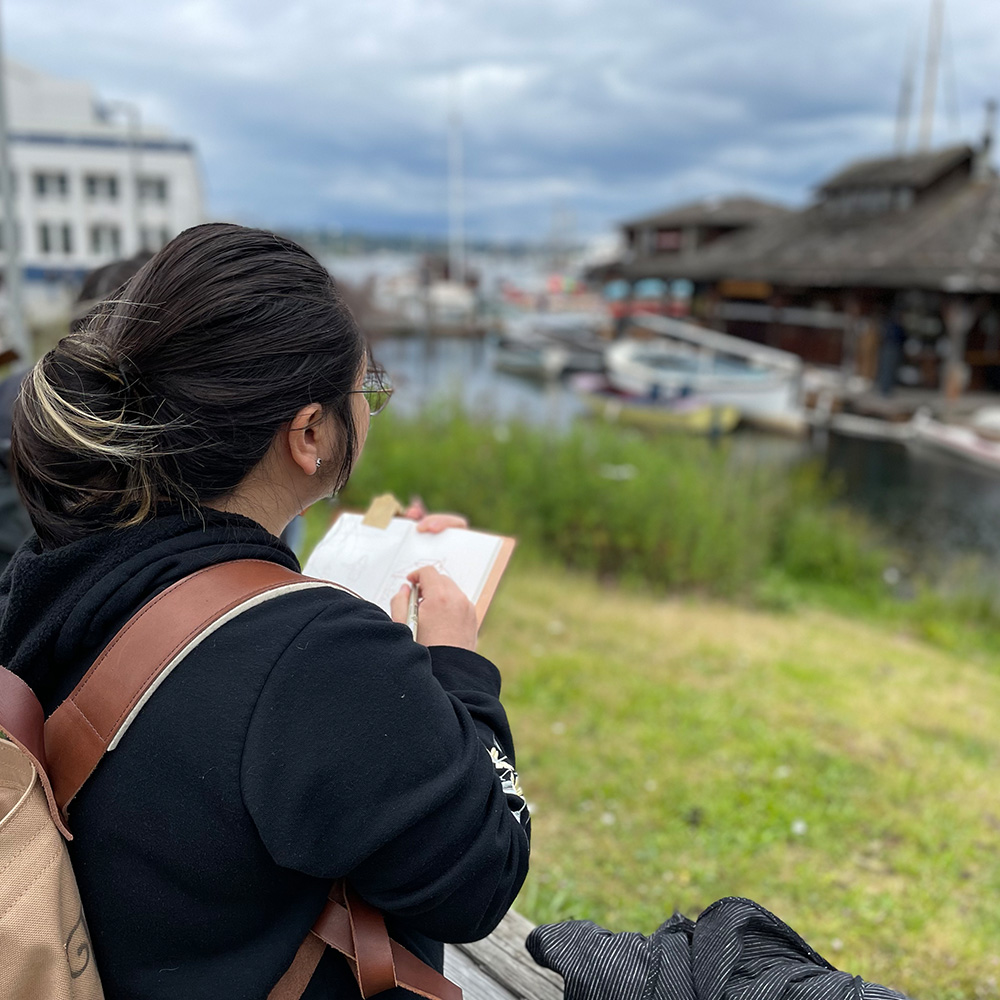 This sketch crawl was attended by seasoned sketchers from the local Urban Sketchers Chapter, art enthusiasts, and TRAVELER'S notebook users. Not only did people trade notes about their favorite drawing tools, but TRAVELER'S notebook users also enjoy meeting and sharing each other's notebooks in person. At the sketch crawl events, you can also collect the special TRAVEL & SKETCH event stamp in your notebooks!
The event ended with a "throwdown" where everyone places their notebooks and sketchbooks down and share their drawings. It's amazing to see a single location being interpreted by so many different styles and characteristics.
If you live in Seattle, we invite you to visit the Center of Wooden Boats and enjoy a fun sketch crawl of your own. Perhaps invite a friend who also uses TRAVELER'S notebook to TRAVEL & SKETCH together!
Tampa Bay Sketch Crawl with The Paper Seahorse
A summer party celebrating TRAVELER'S notebook, drawing, and typewriters went underway at The Paper Seahorse on the same weekend. This TRC Partner Shop based in Tampa, Florida is a meditative space for journal and analog lovers.
TRAVELER'S notebook enthusiasts and artists alike visited the charming bungalow to collect the special event stamp, play with typewriters (it's also World Typewriter Day), and make their own postcards using TRAVELER'S notebook sketch refills. Creatives from different fields also came together to share their art. Urban Sketcher Gaston Mackenzie who founded the Tampa Bay Urban Sketchers Chapter shares his sketchbooks and drawings around the city. Imagine the conversations and inspiration that came out of the event!
Aside from the meetup, The Paper Seahorse also hosts a series of workshops on drawing and journaling. There were make-and-takes, giveaways, and more to celebrate this event. We hope to see you around their town this summer, with your TRAVELER'S notebook!
Portland Sketch Crawl with Oblation Papers and Press
On a sunny Saturday when the temperature rises to near 90 degrees, it still did not beat the spirit of TRAVELER'S notebook enthusiasts who brave the heat to attend a TRAVEL & SKETCH sketch crawl in Portland, Oregon. Oblation Papers and Press is a TRC Partner Shop that is located in the heart of Pearl District, a charming part of Portland with retro buildings, pockets of green foliage, and the hustle of street cars.
Oblation prepared a printed insert that includes several suggested locations to sketch in the neighborhood. The group sketched a water tower outside the storefront, stopped by a café, and ended in a relaxing park with blooming water lilies. You can also collect the event stamp on a blank page of the insert.
If you are in Portland, Oregon this summer, why not visit Oblation Papers and Press for some inspiration to create in your TRAVELER'S notebook. They will recommend fun places to visit nearby to continue this TRAVEL & SKETCH adventure.
Upcoming TRAVEL & SKETCH sketch crawls are happening at Two Hands Paperie (Boulder, Colorado) on July 16th, and Yoseka Stationery (Brooklyn, New York) from July 22 – 24th. We hope you can visit in person and talk to like-minded enthusiasts who enjoy TRAVELER'S notebooks.
We also have Virtual Trips for TRAVELER'S notebook enthusiasts to attend via zoom. Purchase a ticket to join a virtual meetup and watch seasoned users share their craft and how they use their TRAVELER'S notebook!
Have a nice trip!