The US Stamp Caravan continues its journey throughout the United States, making stops at four more stores on this leg of the trip. When the Stamp Caravan makes it to your city, we hope that you will be inspired to bring your TRAVELER'S notebook and experience the outing with a fresh perspective. That is the spirit of TRAVELER'S notebook. At each stop of the Stamp Caravan, we bring special stamps that can only be found at our TRAVELER'S FACTORY in Japan. These special stamps will leave a mark in your notebook and commemorate the special occasion of meeting other TRAVELER'S notebook fans at your local store.
The US tour of TRAVELER'S COMPANY stamp caravan began on March 28th in Philadelphia and will conclude in Portland, Oregon on September 5th.  Wherever you live, we hope that you can find an opportunity to visit a new city to meet the stamp caravan or bring your local friends to enjoy this event. Read about the caravan to see where the next destinations are.
The Stamp Caravan just made its way west and south to North Carolina, Florida, Texas, and Colorado. Let's look at the stores that hosted the stamp caravan and what the events were like!
Good Postage – Charlotte, North Carolina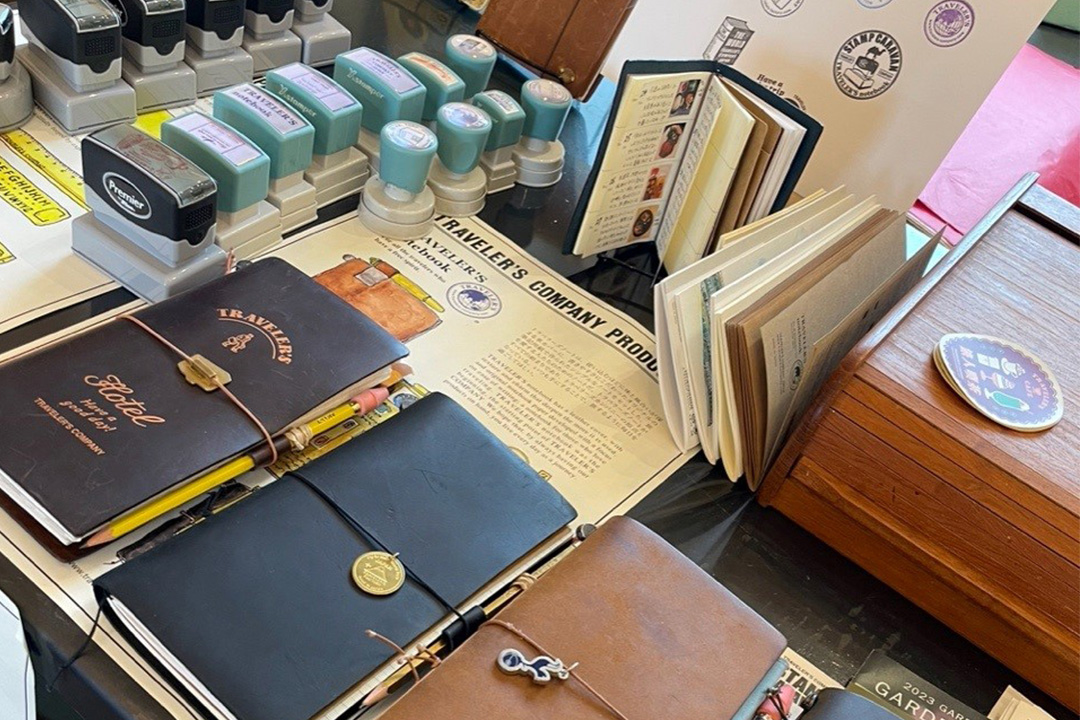 Good Postage is a stationery and craft store located inside the creative hub of Camp North End in Charlotte, North Carolina. They are also host to the fifth stop of the US route of Stamp Caravan this year. Inside the vibrant store, you'll find the display of TRAVELER'S COMPANY items against the wall on an industrial-styled shelf. Walk deeper into the store, and you'll have found the table that displays all the Stamp Caravan special stamps and past travelers' notebooks and refills to flip through.
New customers and fans alike are drawn to the stamping station, and all enjoyed the experience of documenting this trip in their TRAVELER'S notebook. Users stock up on extra notebook refills for their next trip. Good Postage also held a special TRAVELER'S notebook user meetup for anyone who would like to share their usage of their notebooks.
The Paper Seahorse – Tampa, Florida
As the stamp caravan ventures further south, we find ourselves in Tampa, Florida during the early summer days at The Paper Seahorse. Travelers and customers alike can retreat into the comfort of the bungalow turned stationery retreat haven. With an emphasis on letter writing and mindfulness, The Paper Seahorse hosts multiple workshops throughout the year that connect customers to the act of writing and appreciation for analog.
In the spacious store, customers have plenty of space to spread out and enjoy using the special Stamp Caravan stamps on their TRAVELER'S notebooks. We see innovative ways of documenting stamps, such as saving the imprints on the new accordion refill-type notebooks.
The Paper Seahorse is also a popular hub for TRAVELER'S notebook fans to meet. On May 13, the store also hosted a morning social with a Japanese green tea service that allow fans to make custom envelopes and pockets for their TRAVELER'S notebook. We always enjoy seeing the community at The Paper Seahorse share their collections of TRAVELER'S notebooks.
Dromgoole's – Houston, Texas
A new stop on the US Stamp Caravan is in Houston, Texas, at Dromgoole's. This stationery store specializes in fountain pens, paper goods, and other fine writing instruments. With their heritage of a typewriter-specialized store, the owners are familiar with quality stationery and paper items. Their collection of TRAVELER'S notebook items also draws analog fans and people from the journaling community to the Stamp Caravan Event. Inside the spacious store, you'll find the Stamp Caravan set up front and center.
On the first day of the Stamp Caravan, Dromgoole's hosted a meetup to invite fans to share their TRAVELER'S notebook stories and enjoy collecting stamps in their notebooks. Experienced TRAVELER'S notebook users also shared a seminar on how to set up your first TRAVELER'S notebook.
Even though the Stamp Caravan is completed at this Houston stop, don't hesitate to visit the store to find other fine stationery goods that will go along with your notebook on your next journey!
Two Hands Paperie – Boulder, Colorado
The US Stamp Caravan's most recent stop was at Two Hands Paperie in Boulder, Colorado. This stationery and art supply store specializes in all things paper that fuels your creative endeavors. On a large construction paper-covered table, you can find ephemera and special Stamp Caravan Stamps for all your creating needs. Fans visited the store for this special occasion to share their TRAVELER'S notebooks and create fun spreads in their notebooks.
Over 30 fans visited Two Hands Paperie for a TRAVELER'S notebook meetup. We saw TRAVELER'S notebook of all stages of aging and journey. Each fan gets to share how they use their TRAVELER'S notebook, and inspiration was shared across the table.
The TRAVELER'S COMPANY Stamp Caravan continues its journey across the United States throughout the rest of the year until August. Read about the caravan and see which city they will be traveling to next. Perhaps you can encounter it when you plan your next travel destination!
Have a nice trip!