Our KRAFT ENVELOPE features strings and windows made of textured kraft paper. When sending a letter or photo to someone or using it as a pocket bag, why not customize with a sticker or stamp? This way, your thoughts can be more conveyed. 
In addition, you can attach an envelope with a string to the cover of the notebook to customize it with a pocket, use an envelope with a window like a photo frame, use it to organize photos and tickets, etc. Please customize according to your specific lifestyle and preference.   
If you stick overseas used stamps and customize them, you can get an antique taste.
Customize with stamps and stickers
If you attach the KRAFT ENVELOPE with String (S), it becomes a notebook with a pocket. 
It is convenient to put it on a SPIRAL RING NOTEBOOK (B6)
Fill in your name and message with a BRASS TEMPLATE BOOKMARK Alphabet.   
Useful for storing and organizing items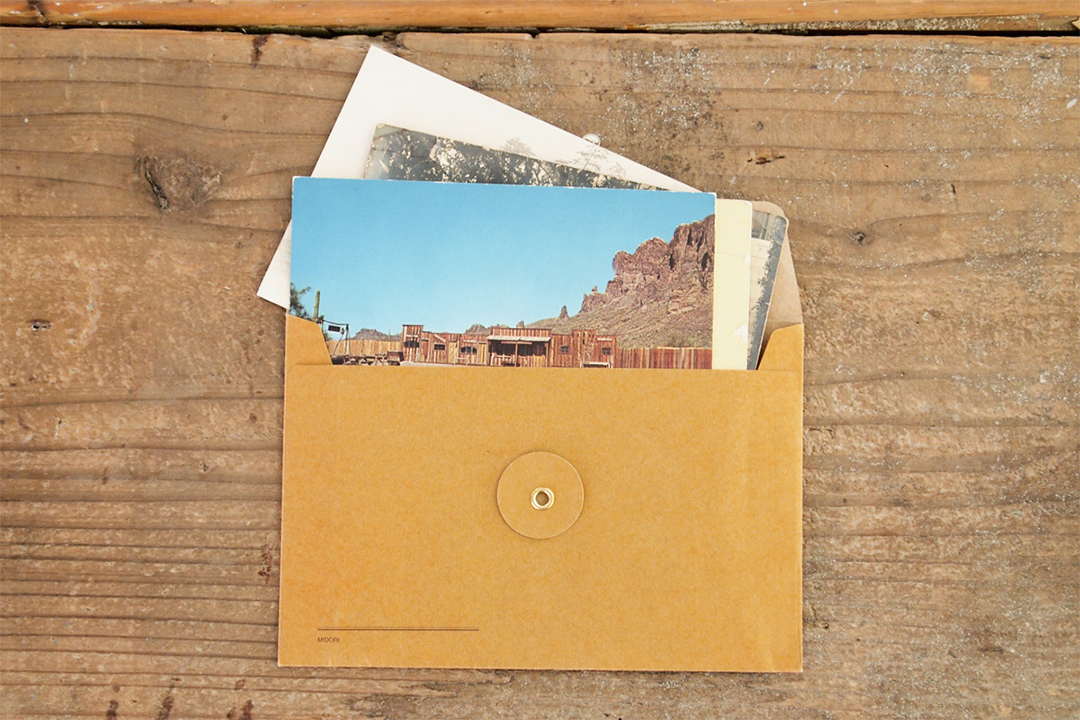 Organize paper items such as postcards and photos.
Organize photos and tickets with numbering the envelopes. 
Indexing with BRASS CLIPS Number makes searching easier. 
You can put letters and photos you have taken, and even add cards, tickets, and stamps you collected during your trip. You can also use this as a pocket by sticking it to your notebook.
The string used on this envelope is used to close the lid. The act of coiling up the string when closing it will deepen the sender's affection towards what's inside, and the act of opening the envelope will definitely bring a sense of excitement to the receiver. The spec of this envelope allows one to open and close it repeatedly, so it is perfect for storing papers and photos collected during one's trip.
This item is made in Thailand at a factory that has been making envelopes for years. The warmth and simplicity of the paper used in this factory will safely store anything you put in it.
Have a nice trip!