The US Stamp Caravan has recently concluded its 7-month journey across the United States. Wherever the Stamp Caravan stopped by, we hope that users were inspired to bring their TRAVELER'S notebook and experience the visit with a fresh perspective. At each stop of the Stamp Caravan, the stores showcase special stamps that can only be found at our TRAVELER'S FACTORY in Japan. These special stamps will leave a mark in your notebook and commemorate the special occasion of meeting other TRAVELER'S notebook fans at your local store.
On the last leg of its journey, the caravan made its way from Los Angeles to Hawaii, then back to Portland, Oregon on the West Coast. Let's see what kind of TRAVELER'S notebook encounters these stores had with Stamp Caravan.
FLAX Pen to Paper – Los Angeles, California
Flax Pen to Paper is a small family-owned stationery store in Westwood Village in Los Angeles, California. It is the neighborhood stationery store for students from UCLA as well as for stationery aficionados with exquisite taste for fine writing instruments. The store offers plenty of interesting inks and stationery accessories to add color to your TRAVELER'S notebook.
The Stamp Caravan drew TRAVELER'S notebook fans and new users alike. Across a long communal table, customers came together to collect stamp impressions in their TRAVELER'S notebook, while sharing travel stories. The store owners are fans of TRAVELER'S notebooks, and they proudly showcased their well-used notebooks on the table for people to flip through.
MONO – Honolulu, Hawaii
Along the bustling street filled with tourists and locals alike, you'll find MONO, a quaint but fashionable store featuring lifestyle goods and select stationery. The bright interior features a minimalistic but tasteful décor, with the Stamp Caravan taking center stage on the main table. TRAVELER'S COMPANY notebooks and accessories are neatly displayed alongside a small space for users to enjoy the special stamps.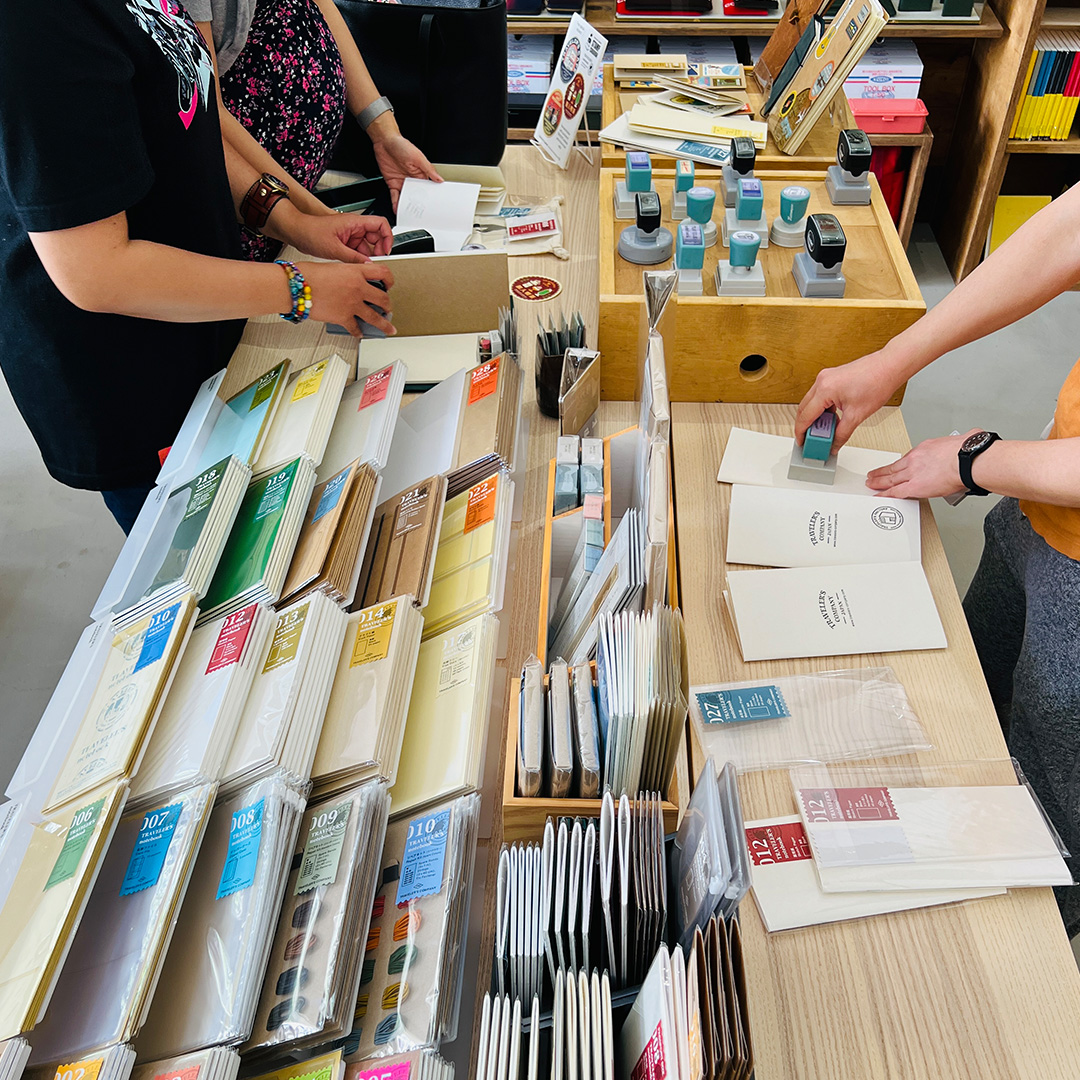 Creative TRAVELER'S notebook fans used the special stamps to decorate an insert made with map leaflets. Some users also bought a new Accordion Fold Refill to collect all the stamps on one page. Since this was the second to last stop of the Stamp Caravan, many customers took their time enjoying the opportunity to meet other stationery lovers and TRAVELER'S notebook fans.
Oblation Papers and Press – Portland, Oregon
Inside Oblation Papers and Press, you'll find a museum of typewriters and the comforting sound of letterpress machines churning out freshly printed cards. This charming stationery and gift store in Portland, Oregon is the final stop for the US tour of TRC Stamp Caravan. It is also one of TRAVELER'S COMPANY's first Partner Shop in the United States.
The Stamp Caravan was held inside the gallery of the store – a large wooden table held the stamps and accompanying stationery accessories to decorate your TRAVELER'S notebook. It was also Labor Day Weekend, and the event drew quite the crowd to the already bustling store. TRAVELER'S notebook fans from the Pacific Northwest region gathered at the event to share their notebooks and enjoy each other's company.
The US tour of the TRAVELER'S COMPANY Stamp Caravan ended on a high note. All the fans enjoyed coming to each local stop to collect special stamps, event stickers, and make new friends in their cities. We hope that each of your trips was filled with unexpected discoveries and fun memories, such is the spirit of TRAVELER'S COMPANY. Until the next time we meet at Stamp Caravan!
Have a nice trip!