*This product lineup is only available from December 7th, 2020 through January 31st, 2021.
In Europe and the United States, books containing photography, art, and short stories that you can appreciate while sipping on a cup of coffee, are commonly referred to as "coffee table books". Slowly open-up a photo book while your coffee is dripping into your favorite mug. Imagine a time that reminds you of the excitement of traveling, but while you are stuck at home. Instead of just casually browsing the book illustrations, take time to indulge in the memories of a recent trip, or even write down plans for your next travel destination. Arrange small items on the coffee table that inspire you to travel and taste your coffee that was brewed with patience. We have named this activity "COFFEE TABLE TRIP" after the coffee table book.
TRAVELER'S COMPANY USA has selected coffee related goods that are perfect for a coffee table trip with your notebook. This holiday season, spend your time traveling in your imagination with a delicious freshly brewed coffee, reading a book while listening to your favorite music.
The first step in preparing for a COFFEE TABLE TRIP is to grab your  TRAVELER'S notebook and a book that gets you in the mood for traveling and lay them both on the table. If you have any knick-knacks or treasures you've picked up during your travels—a snow globe, for example—put those on the table too. Turn off the TV, put your smartphone somewhere far away as to limit distraction, and put on your favorite music playlist. Keep the volume low, you want to be as relaxed as possible.
Grind up some coffee beans that you have ordered from your favorite coffee shop (Check our recommended Grinder, PORLEX Grinder Tall II and PORLEX MINI GRINDER II). Take the extra time and make your coffee a bit more slowly and mindfully than usual. Pour it in a mug that is special to you (Check out our recommended Mug, FALCON Mug Red / Gray / Black). Fill your mug all the way to the top, set it on the table and breathe in that wonderful aroma of freshly brewed coffee before taking a big sip. As the excitement fills your body, close your eyes and imagine yourself at the destination of your choice. Now, you are ready to take off.
As you sip your coffee, open your book or notebook. Let the story in your book or the memories you have written about in your notebook take you away. Now open your notebook to a new page and transfer your imaginary journey to paper. That is a COFFEE TABLE TRIP. It may seem like such a simple thing—drinking a coffee, reading a book, and writing in a notebook—but what it does for your mind is very beneficial. Naming it a COFFEE TABLE TRIP makes that activity special, creating a moment of excitement on an otherwise dreary day.
---
COFFEE TABLE TRIP Music Playlist
We have chosen songs for you to enjoy your COFFEE TABLE TRIP.
With a cup of coffee, you can feel free to travel beyond the constraints of space to Texas, Germany, Tokyo, Illinois, India and Hawaii. I believe that writing something in a notebook is an act of retracing one's own past memories and feeling as if one has traveled back through time and space. 
Music is an essential element of our brand, just as the TRAVELER'S notebook is, and it takes us on a journey in our daily lives. Enjoy our selected music for your COFFEE TABLE TRIP. Have a nice trip!
How to Drip Coffee
---

Product Lineup:
PORLEX GRINDER
The best way to brew a good cup of coffee is to grind the beans just before brewing. The aroma, one of the main flavor elements of coffee, is the strongest right after it has been ground. The PORLEX GRINDER is an easy to use with a simple design, which means you can accurately recreate the perfect cup of coffee day after day.
TRAVELER'S FACTORY Leather Mill Belt
TF Leather Mill Belt fits perfectly on your PORLEX coffee mill and is made of the same leather as the TRAVELER'S notebook. This will enable you to fasten it through the handle.
ORIGAMI DRIPPER
With ORIGAMI drippers, you can enjoy the process of dripping your own coffee and have a delicious authentic coffee at home. Designed and developed with baristas who constantly seek out the best tools to pour coffee. The vertical groove pattern allows for the most optimum extraction of flavor and enables you to enjoy the essential charm of the beans.
FALCON MUG
This is an original mug created by Falcon Enamelware. The classic design which is easily recognizable to this day. It is durable, smooth, and can assume long-lasting and tasteful colors. Perfect for sipping coffee outdoors, but also great for snuggling up with a good book at home.
TRAVELER'S FACTORY Original Coaster
TF Original Coaster is made of the same leather as the TRAVELER'S notebook. The leather is cut into a round shape, then our TRAVELER'S notebook logo is engraved on it. It is a perfect size for a mug and would make a great addition to your daily coffee ritual.
TRAVELER'S FACTORY Original Coffee Bag
TF Original Coffee Bag is made in Chiang Mai, Thailand. Inspired by the jute bags used for shipping coffee beans. It can hold a 100g pack of your favorite coffee beans or a tumbler and can also be utilized as a gift bag.
TRAVELER'S FACTORY Original Charm
TF Original Charms are the tools to customize and personalize your TRAVELER'S notebook. We selected charms with the theme of "COFFEE TABLE TRIP". These charms are made of tin, same as the metal fastener on your TRAVELER'S notebook's rubber band.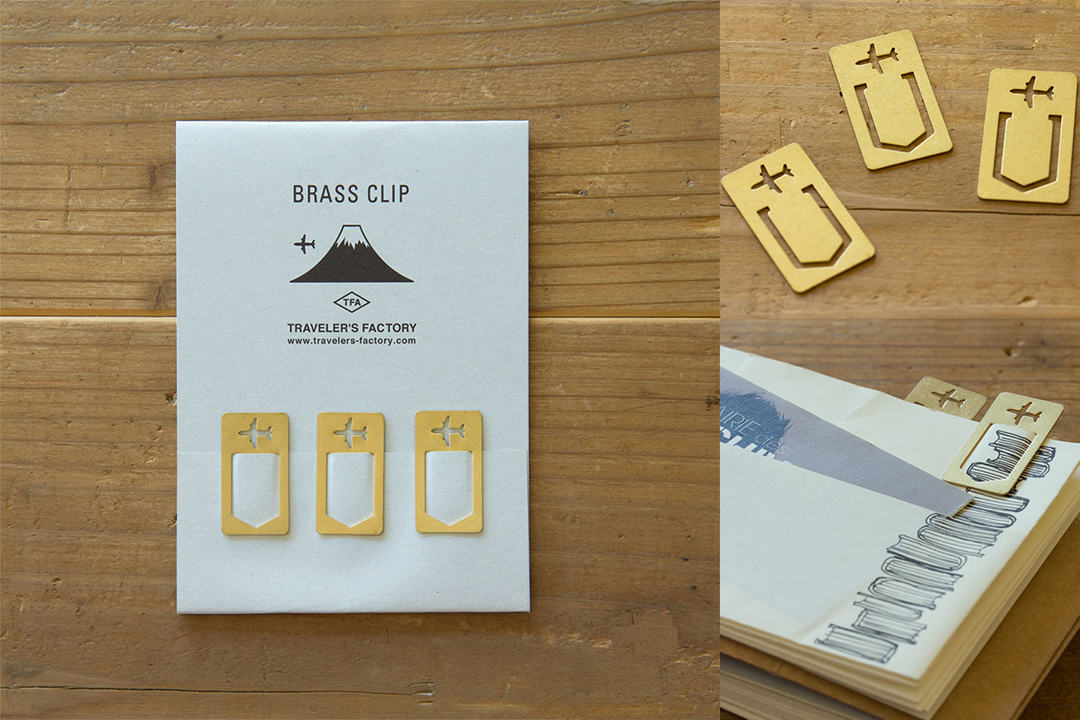 TRAVELER'S FACTORY Original Brass Clip
TF Original Brass Clip features our unique airplane design. You can utilize it to index certain pages or maybe mark a stopping point in your favorite book.
In a time when many of us feel anxious about what may lie ahead, sitting with your notebook and a delicious cup of coffee will make you feel cozy and forget about your worries for a moment. Notebooks and coffee may not be essential items, they can provide comfort and peace to your daily life.
While we are currently unable to travel and are spending so much time at home, a COFFEE TABLE TRIP is more important now, than ever, so please enjoy your journey.
Have a nice trip!